2nd Biennial International Meeting of the Eurasian Colorectal Technologies Association
Torino, June 15th-17th 2011
It is a great honour and pleasure to organize in Torino the 2nd Biennian ECTA Meeting. In 2011 we will celebrate the 150° anniversary of the birth of the Italian nation: in 1861 Vittorio Emanuele II di Savoia became the first king of Italy and Torino the first capital. The ECTA Congress has been included among the official events that will celebrate this important anniversary. I would like to express my deep gratitude to Francis Seow-Choen, ECTA President and to all the members of the ECTA Executive Board for the privilege of hosting ECTA in Torino. For us europeans it will be a great honour to play host to the most prominent Asian surgeons, involved in our meeting and presenting their latest researches and results.
Torino will surprise you with its architecture dating from Roman times to elegant baroque , its 18 km of porticoes, the Egyptian Museum, the Mole Antonelliana hiding the National Museum of Cinema, the Castello di Rivoli hosting the richest Contemporary Art Collection in Italy, the Duomo with its beautiful Guarini chapel guarding the Holy Shroud …. But Torino is also the capital of chocolate, wine and truffles, historical cafés and the town of Fiat, Juventus and more recently Eataly, the Slow Food movement sanctuary.
The former Lingotto Fiat factory transformed into a modern Congress Center by the famous architect Renzo Piano will host our Congress.
In 2009, ECTA kicked off its activity with the 1st Congress held in Guangzhou, China. Torino will represent a new step forward: each year we have technical , technological and clinical improvements. The pursuit of a reduced surgical trauma together with maximal clinical efficacy is the main goal of our daily research activity.
Furthermore, this Congress will represent a new format trying to establish and strengthen important relationships between ECTA and other surgical societies. The European Association for Endoscopic Surgery (EAES), and the Italian Society of Endoscopic Surgery (SICE) have decided to hold a joined congress in the same location and time frame.
Old Europe will exchange ideas with the fastest growing countries in the world….the times they are @-changing!
Welcome to Torino!
Alberto Arezzo
I would first like to welcome all delegates from Europe and Asia to this Second Biennial Meeting of the ECTA. Secondly I must congratulate Prof Mario Morino the President and Prof Alberto Arezzo, Scientific Secretary of this 2nd Biennial meeting for an extremely well planned meeting. The ECTA is still a very new association with work in progress but with this meeting our association had taken a tremendous great leap forward in cementing ties between European and Asian colorectal surgeons. We know that all of you will find new ideas herein and the interaction between exotic surgeons and exotic methods will be both mind expanding and thought stimulating beyond what solely European or solely Asian meetings have to offer. This is our uniqueness in a world that is getting more isolationistic; we are getting more global. Thirdly this wonderfully modern but ancient city of Torino holds many surprises for all of us. It will be a truly memorable meeting that will set the standard for other future meetings to come.
Dr Francis Seow-Choen ECTA President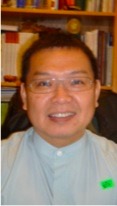 ROOM ISTANBUL
8:00    Laparoscopic colorectal surgery
Chair    P Lan, China – CA Sartori, Italy
P Lan, China – Laparoscopic surgery for ulcerative colitis
GA Binda, Italy – Laparoscopic surgery for endometriosis.
HK Chun, Korea – Hand-assisted laparoscopy for colorectal cancer
Y Panis, France – Current knowledge, what remains unclear
M Morino, Italy – Pitfalls in Laparoscopic Colo-Rectal Surgery
G. Spinoglio, Italy – Laparoscopic right colectomy for cancer
L Boni, Italy – SILS and colorectal surgery
R Cahill, UK – Minimally Invasive Surgery in the colon and rectum: future trends
9:40    Lecture    Chair    A Arezzo, Italy
P Dario, Italy – Robotic applications for laparoscopy and endoscopy
10:00     Coffee Break
10:30    Laparoscopic treatment for rectal cancer
Chair    HK Chun, Korea – F Borghi, Italy
MKW Li, Hong Kong – Recent advancement in MIS for left colonic obstruction
B Bashankaev, Russia – Patients' outcome, oncologic adequacy
M Zheng, China – Long-term outcome of laparoscopic TME
JT Liang, Taiwan – Technical Feasibility of Laparoscopic Lateral Pelvic Lymph Node Dissection
F Seow-Choen, Singapore – Laparoscopic rectal cancer: Pros
B Teleky, Austria – Laparoscopic rectal cancer: Cons
Discussion – CA Sartori, C Staudacher, C van de Velde
12:15     Lunch
14:00    Local treatment of early rectal cancer
Chair    P Tsarkov, Russia – E Lezoche, Italy
J Pfeifer, Austria – Management of polyps and early cancer
W Meng, Hong Kong – TEM vs. posterior trans-sphincteric approach
K Maeda, Japan – MITAS for selected rectal tumors
HK Chun, Korea – Transanal Endoscopic Microsurgery
Y Saito, Japan – Flexible endoscopy: EMR and ESD
Discussion – P De Paolis, Italy, E Kanehira, Japan
15:20    Gerhard Buess Lecture
Chair    A Arezzo, Italy
E Kanehira, Japan – Transanal Endoscopic Microsurgery in the patry of Endoscopic Submucosal Dissection
15:40    Coffee Break
16:20    Fistulas
Chair    F Seow-Choen, Singapore – GA Binda, Italy
KU Grützner, Germany – Endo-VAC for anastomotic leakage
L Lenisa, Italy – Anal fistula plug for complex fistulas
A Rojanasakul, Thailand – LIFT for fistula ani
P Gupta, India – Anal fistulotomy using radio waves
PC Meinero, Italy – Video Assisted Anal Fistula Treatment
MO Schurr, Germany – Over-The-Scope-Clip for colon, rectal and perianal fistulas.